viarail.ca
VIA Rail: 60% Off Sleeper Plus and Economy Class Travel on The Canadian (Toronto-Vancouver), Book By July 19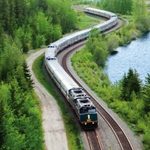 This deal has expired!
If you've ever wanted to travel aboard the Canadian, here's your chance to do so with some big savings. Book by July 19 and enjoy travel on VIA Rail's Toronto-Vancouver route in Sleeper Plus or Economy class at 60% off! This offer is valid on travel up until October 25.
The discount applies to peak adult regular fares in sleeper plus and economy, examples of available one-way fares include:
Toronto-Vancouver, upper berth - $546
Jasper-Vancouver, upper berth - $245
Jasper-Prince Rupert, touring class - $191
Note: Touring class travel between Jasper and Prince Rupert is only available at the discounted rated until September 30, 2012 (when booked by July 19).
For more information on how to book these fares or to view schedules, visit VIARail.ca.