Hotwire.com: Hotel Deals in Canada and the US Starting at $29 a Night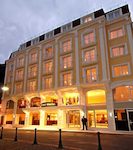 Hotwire.com is a US-based site offering deals in Canada, the US, and abroad. The very best use of Hotwire that we have found are the discounted hotel rates. You pick your city, select your dates and Hotwire returns its very best deals. You learn the location of the hotel, the number of stars it rates, and the price per night, but you don't find out the name of the hotel until after you book. Normally that might concern us, but when Hotwire is offering a 4-star hotel in the area of our choosing (and they're offering it at a 2-star-price), we'll go ahead and book.
We have really just begun to scratch the surface of the tremendous amount of deals available at Hotwire.com lists hotels in hundreds of cities all over the world. You can search without any obligation to buy, and at these prices, we wonder how you could ever pay full-price for a hotel again. Hotwire.com is a US-based site that bills in US dollars, but offers hotels in Canada and accepts Canadian credit cards and billing addresses.