Hotels.com
Hotels.ca Check-In Cash-Out Promo: Up to 30% Off + Get Up to $100 Prepaid Visa Card, Book by Aug 31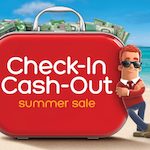 This deal has expired!
Planned your summer vacation yet? If you book your accommodation through Hotels.ca you can save up to 30% and earn a prepaid Visa card valued at up to $100 during their Check-In Cash-Out promo.
Hotel discounts will vary by property during this promo, here's how the prepaid Visa amount is decided:
Spend $150+, get a $25 prepaid Visa
Spend $250+, get a $50 prepaid Visa
Spend $450+, get a $100 prepaid Visa
To qualify, your booking must be made by August 31, 2012 for stays completed by September 30, 2012. You can redeem by clicking the redemption link on your confirmation page after booking. You will then submit your name and email address. Within four weeks of completing your qualifying stay you will get an email asking for your mailing address, and up to two weeks after that your Prepaid Visa Card will be mailed to you. Limit of one card per booking.
For more information, or to book your qualifying stay, visit Hotels.ca.