MasterCard
Fashion Week Package for MasterCard Holders - $1000.00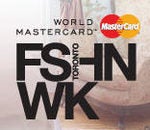 This deal has expired!
MasterCard is offering a Fashion Week Luxury Package for its cardholders. For $1000.00, you can get:
A 2 night stay in a 700 square-foot deluxe suite at the Windsor Arms Hotel. Furnished with a classic design of luxury and comfort
Afternoon tea for 2 at the Windsor Arms Hotel
2 Premium Passes to all day and evening shows in the Main Runway at World MasterCard Fashion Week (on the days of your stay).
Limited packages available.