Expedia
Expedia 24 Hour Hotel: Monarch Sands Resort in Siaton, RP $17, RF Astoria Tenerife Spain $35 + More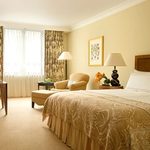 This deal has expired!
Every Wednesday, Expedia offers a 24-Hour Sale with big savings on hotels and vacation packages around the world! Hotel prices start at $18 per night -- but since the sale prices run one day only, you have to book fast!
View all sale options
on this page
. Use the dropdown menus at the top to narrow your results by region/city. Here's a quick look at some of the sale hotel prices we saw today for the sample travel dates of May 10-11:
Monarch Sands Beach Resort in Siaton, Philippines - $17/night
Best Western Plus Chocolate Lake Hotel in Halifax, NS - $104/night
Aqua Aloha Surf Waikiki in Oahu, Hawaii - $99/night
RF Astoria in Tenerife, Spain - $35/night
The Yellowknife Inn in Yellowknife, NWT - $149/night
Hotel Grand Pacific in Victoria, BC - $127/night
M Star Hotel Nashville in Nashville, Tennessee - $34/night
Buri Tara Resort in Krabi, Thailand - $33/night
This promotion expires at 11:59 PM PST. Happy booking!