timhortons.com
Tim Hortons: Free Summer Swimming in Alberta & Ontario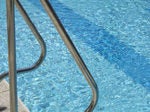 This deal has expired!
Ahh summer...the season of flip-flops, sunscreen, and free public swimming courtesy of Tim Hortons!
Tim Hortons will once again host free public swim times at community pools in Alberta and Ontario this summer. Get in on the free fun (and swim off those Timbits) this July and August at participating pools, program start/end dates as well as swim times will vary. You'll find full scheduling and location information here.
Capacity restrictions will apply, have a great summer!