Canadian Tire
Canadian Tire Fitness Sale: Save up to 60% on Select Treadmills, Exercise Bikes and More!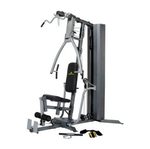 This deal has expired!
If you're looking to get into shape before the New Year to uphold a resolution you may have forgotten about until now, Canadian Tire is giving you an opportunity to save up to 60% on select fitness equipment for a limited time. While there isn't a ton of gear on sale there's a good variety of things to choose from so you'll want to take a look and see if there's something you need -- even if you plan on using it at the start of next year.
The sale is on now but we're not quite sure for how long. If you hope to take advantage of the deals, you'll need to head on over to your nearest Canadian Tire soon.