Amazon Canada
Amazon.ca: Fitbit Wireless Activity Tracker $79.95 + Free Shipping (Reg. $99.95)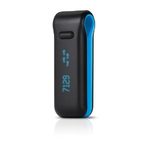 This deal has expired!
October 14 update
: This price expired, but
now it's back again
, so hurry up and buy if you're interested!
Originally posted October 3: The Fitbit is a very popular activity tracker with lots of neat features. It records your steps, stairs climbed, distance covered, calories burned as well as how long and how well you sleep! And everything uploads wirelessly to Fitbit.com for no fee. There's a new version of the Fitbit coming out later in October which is probably one reason that the current model is on sale! It's regularly $99.95 but this week only you can get it for $79.95 and free shipping from Amazon.ca. It comes with the Fitbit unit, a sleep wristband, belt holster and base station with charger. It's a great little tool to pick up if you're interested in your daily activity or if you're looking for a new tool to motivate yourself.
There aren't many reviews on the Amazon.ca site, but on Amazon.com it rates 4.5/5 stars from an astonishing 1,531 reviewers! The deal expires October 8, so hurry over and shop.