WhistlerBlackcomb.com
2012/13 Whistler Blackcomb Edge Cards: Ski Lift Discount Packages, Earlybird Pricing Ends Nov 19 (BC)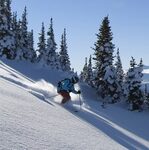 This deal has expired!
Ready BC? Prepare yourself for the 2012/13 ski and snowboarding season with your WhistlerBlackcomb.com Edge card. Your pre-loaded Edge card gets you the best rate on lift tickets at Whistler Blackcomb (excluding corporate club tickets).
Edge cards come in 1, 3, 5, and 10-day increments for ski-lift admission in the 2012/13 season. Once you have used up your pre-loaded days, your Edge card will continue to get you a discounted ski-lift rate for the rest of the season.
Purchase your Edge card by November 19 and you will be eligible for a reduced earlybird rate. Here's the deal:
10 Day Edge Card: Adult $649, Senior/Youth $519, Child $315
5 Day Edge Card: Adult $359, Senior/Youth $289, Child $172
3 Day Edge Card only available: Adult $229, Senior/Youth $185, Child $125
1 Day Edge Card: Adult $77, Senior/Youth $62, Child $38
In addition to the reduced ski-lift rates, your Edge card will get you the following perks:
Up to 20% off ski, boards, boots, bindings and accessories at select retailers
20% off any Ziptrek Ecotour
25% off Coca Cola Tube Park tickets
$10 off regular single-day lift tickets at any other Intrawest Resort
Exclusive email offers and perks throughout the season
Photo ID and proof of Canadian or Washington State residency will be required when you pick up your Edge card. Limit one card per person per season. Edge cards are available online at WhistlerBlackcomb.com, remember early-bird pricing ends November 19.