Free eBook: The Facebook Marketing Guide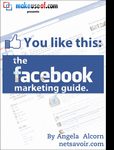 This deal has expired!
It's pretty hard to escape from Facebook these days. As a small or medium business, you might be on the fence when it comes to using Facebook as a marketing or growth tool. With that being said, TradePub, a free business publication service, is offering a short eBook that might lend you some insight. It's called the
The Facebook Marketing Guide
it covers some basic principles on competently using Facebook for your business.
You do have to provide some personal information to access TradePub's free offers, but in testing, we received a link to this eBook right away via email very quickly after submitting.