Box.net: Free 50GB Lifetime File Storage Account for iOS5 Users (Until December 2)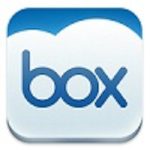 This deal has expired!
Have you updated to iOS5 yet? If so, this offer from Box.net might be of interest: for the next 50 days, they are giving away
50 GB of free storage
to anyone who uses a personal Box.net account on their app for iOS5. Once you get the storage, it's yours forever. Box.net stores your files in the cloud, so you don't have to worry about transfering files from device to device. With the app, you can also access your files from your mobile phone and use AirPlay for wireless streaming.
In comparison, iCloud only gives you 5GB of free storage -- 50GB of additional storage space costs $100/year. This offer from Box.net gives you a lot more storage space for music, TV shows, files, photos and whatever else you may want to put in the cloud. Past versions of the app have between 3-5 stars.
To take advantage of this deal,
download the free Box.net app from the iTunes store
. Register or sign in to your account, and the 50GB of free storage will be added to your account. The free 50GB offer is running until December 2, 2011.