Tim Horton Donuts
Tim Hortons: $1 Small Latte, Cafe Mocha or Classic French Vanilla for a Limited Time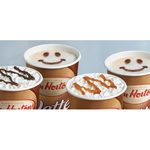 This deal has expired!
Tim Hortons is running a nice offer right now! You can get a small-sized Latte, Cafe Mocha or French Vanilla beverage for just $1. At full price the beverages cost between $1.48 and $2.
As you might remember, Tim Hortons did some changes to their cup sizes recently so what is now a small used to be a medium....and that makes this deal even better!
This offer is available nationwide.