Tim Horton Donuts
Tim Hortons: $1 Small Frozen Lemonade (For a Limited Time)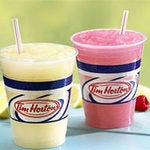 This deal has expired!
May 14 update: Good news! It looks like this promotion has been extended for the rest of the summer. Head in to your local Tim Hortons location to grab a small frozen lemonade for $1.
Originally posted April 17: With summer on its way, Tim Hortons just launched a new frozen lemonade drink for those warm, sunny days that are coming up! To celebrate the launch, you can get a small frozen lemonade for $1 for a limited time.
The drink is available in original and raspberry flavours, and is made with real lemon. Forum users are reporting that the drink is very sugary, but if you have a sweet tooth, this might be the drink for you!