Starbucks: Bring Your Own Mug and Get a Free Cup of Coffee on Earth Day (April 22)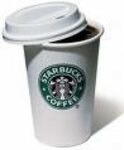 This deal has expired!
Here's a nice green freebie in honour of Earth Day. As in years past, Starbucks will
offer a free cup of coffee
to anyone who brings in a reusable mug of their own on April 22, 2009. Since this is being promoted on the Starbucks
Canada
page we're confident that Canadian Starbucks locations will participate.
If you're in the habit of bringing a reusable mug every day, Starbucks has an ongoing green initiative where you can
receive 10 cents off your beverage when you bring your own mug
.