Starbucks: Muffins are $1 with the Purchase of Any Handcrafted Drink (Until April 1)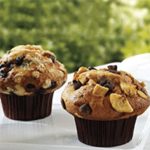 This deal has expired!
Starbucks is back this week with a new offer! Starting today, you can get any muffin for $1 when you purchase a handcrafted drink.
This offer is running today through April 1. According to the website, eligible "handcrafted drinks" include brewed tea, as well as coffee or espresso drinks (hot or iced). Muffin flavours include Buttermilk Blueberry, Raisin Bran and Banana Chocolate Chip.