facebook.com
Starbucks Get a Free Blonde Roast Coffee + One For a Friend! (Facebook Required)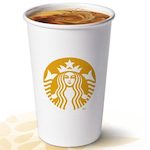 This deal has expired!
You and a friend can warm up with a Blonde Roast from Starbucks -- for free! RedFlagDeals.com Freebies forum poster dragun has spotted a nice Starbucks/Facebook promo that will get you and a friend a free coffee for a limited time.
Here's how it works, access the Facebook offer here, agree to the terms, and enter your email address. This will get you a Starbucks Card eGift of approximately $2.60 (depending on currency exchange rates). eGifts can be printed and redeemed in store or transferred to a registered Starbucks Card.
Don't want to drink alone? You'll also be able to enter the email address of one friend so they will also be sent an eGift card. The amount of eGifts available is not specified, but they are limited, so best to take advantage quickly if you are interested.