Starbucks: Free Tall (12 oz.) Starbucks Refresher Beverage on Friday, July 13, 12-3 PM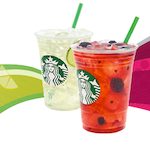 This deal has expired!
Starbucks has just launched a new line of beverages called Starbucks Refreshers that are made with green coffee extract, whole fruit and fruit juices for a caffeinated, low-calorie treat. If you'd like to try one, you're in luck! On Friday, July 13th from 12-3 PM, you can get a free tall (12 oz) Starbucks Refresher at participating Starbucks locations. There's a limit of one beverage per person and there is no purchase necessary -- just grab your free drink and go on your way.
This offer is running at participating stores only. Unfortunately we haven't been able to locate a list of participating locations, but we have seen the offer advertised at our local Starbucks locations, so check for a sign or ask the staff to ensure you'll be able to take part on Friday.