South St. Burger Co.: Free Fries w/Purchase of Burger if You Kiss Someone on Valentine's Day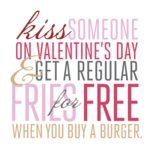 This deal has expired!
This offer is a bit unusual, but we're betting lots of people will take part anyway! On Thursday, February 14, the South St. Burger Co. will give you a free order of fries when you purchase a burger -- if you kiss someone! So round up your valentine and head on over.
There are about 20 South St. Burger Co. locations in Canada. Happy kissing!