McDonalds
McDonald's Printable Coupons (Valid May 7-June 3, Offers Vary By Province)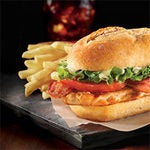 This deal has expired!
Forum user stephroll gave us a heads up that there's a new round of printable coupons up on the McDonald's website! The offers vary by province but according to the website, there's up to $42 in potential savings, including $1 off any medium or large McCafe fruit smoothie, $2 off any entree salad, free medium fries and soft drink with McBistro sandwich purchase and more.
The coupons are valid today through June 3, 2012, and are available nationwide.