Marble Slab Creamery
Marble Slab Creamery: Buy One, Get One for 99 Cents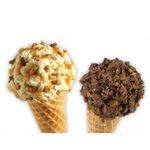 This deal has expired!
Marble Slab Creamery has just hit 20,000 Facebook fans, and to celebrate, they're offering a nice little coupon! Just print this page to take part in their Buy One, Get One for 99¢ offer. The coupon will get you one medium ice cream or yogurt with one mixin in a waffle cone for 99¢ when you buy an ice cream or yogurt of equal or greater value.
The coupon is valid through May 6, 2012, at participating Canadian locations. Happily, you do not have to be a fan of the Marble Slab Creamery page to access the coupon.