Colonel Saunders Kentucky Fried Chicken
KFC: Buy a Summer Dinner Box and Get a Free 12-Pack of Chocolate Cupcakes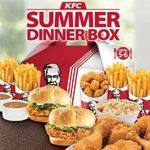 This deal has expired!
Forum member stephroll tipped us off to a promotion that's taking place at KFC right now -- when you purchase a Summer Dinner Box you can get a free 12-pack of German Chocolate Cupcakes with your order when you use this coupon.
The price of the Summer Dinner Box may vary by region, but In Ontario, at least, it's $29.99 and contains a variety of KFC sandwiches, popcorn chicken, five sides and twelve pieces of chicken. It's meant to serve 5-6 people.