Harveys
Harvey's: 2 Original Burgers for $6 (Participating Locations Only)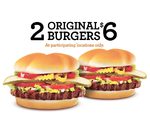 This deal has expired!
Although more cost effective in the long run, bringing lunch from home can get boring after awhile. If you're looking to mix it up, Harvey's has a pretty awesome promotion you might be interested in. For a limited time, participating Harvey's locations are offering 2 Original Burgers for $6. Fast-food connoisseurs know that a burger on its own, from any chain, can get expensive but this deal gives you a good excuse to leave the tuna sandwiches at home.
Unfortunately there's no set list of which restaurants are offering the promotion so you'll want to call to confirm before heading out for lunch.
Thanks to batt for sharing this one!