Trapper's Restaurant
GTA: Summerlicious is Back from July 6-22 (Reservations Begin June 19 With AMEX; June 21 Without)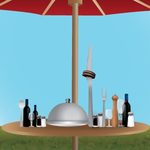 This deal has expired!
The dates and restaurants for this year's Summerlicious event were announced this morning! It's the 10th year of the event, and there will be over 180 restaurants participating.
From July 6-22, participating restaurants will be offering 3-course meals at lunch and dinner for $15, $20, $25, $35 or $45. A list of participating restaurants and their menu offerings can be found here.
Book early, as this promotion is known to sell out. Reservations open June 21, unless you have an American Express Card, in which case you can start making your reservations on June 19.