Entertainment
Entertainment.com (US) Spring Sale: 2012 Entertainment Coupon Books are 2 For $25 + Free Shipping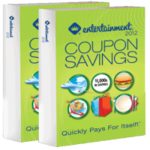 This deal has expired!
Entertainment.com has a new offer out! For a limited time, all
2012 Entertainment Coupon Books are 2 for $25 with free shipping
. If you haven't picked one up yet or you're thinking of geting a few more for your friends or family, right now might be a good time to put your order in even though you have about 6 months to use the coupons before they expire in November. The prices are in US dollars as
Entertainment.com
is a US-based website.
The coupon books are available in these Canadian locations: Calgary, Edmonton, Vancouver, Winnipeg, Halifax, Toronto (GTA), Hamilton, Ottawa, Montreal, Saskatchewan, Vancouver Island and the Okanagan Valley. Popular US vacation destinations like Las Vegas, Orlando and Hawaii are also available. Visit
Entertainment.com
to view all participating locations.