Entertainment
Entertainment.com St. Patrick's Sale: All Books are $17 With Free Shipping!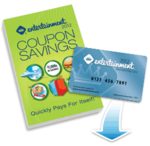 This deal has expired!
Here's an early St.Patrick's Day gift from Entertainment.com --
all books are just $17 and come with free shipping
!
Whether you're buying a book for the city you live in, or a city you plan on vacationing in this year, expect to find loads of coupons for restaurants, movies, car rentals, museums, and more. You'll cover the cost of each book completely with just one or two of the two-for-one deals available.
Participating Canadian locations include: Calgary, Edmonton, Vancouver, Winnipeg, Halifax, Toronto (GTA), Hamilton, Ottawa, Montreal, Saskatchewan, Vancouver Island, and the Okanagan Valley. You can also pick up titles for popular US vacation destinations like New Orleans, Las Vegas, Orlando, and Hawaii.
The coupons in the book are good through November 2012 and there are a online coupons that you can access as soon as you complete your order. Though advertised as a 17-Hour Sale, this St. Patrick's Day discount offer actually expires at 11:59PM March 18.