Entertainment
EntertainmentBook.com: All 2013 Books are $29.99 + Free Shipping + 18% Cash Back from RFD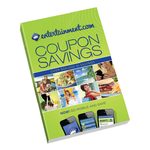 This deal has expired!
If you're looking to pick up your 2013 Entertainment Book, you'll get a big break on the price with the Entertainment.com offer available today. Books are currently available $29.99 with free shipping -- and when you shop through our green cash back links you'll get a whopping 18% cash back on your purchase! This is a particularly good deal for those of you in Vancouver, Edmonton or Calgary, where the regular price of the book is $45-$50.
As always, you'll find coupons for restaurants, movies, car rentals, hotels, family activities, and more in each city's Entertainment Book. Just use a few of the two-for-one deals and you'll cover the cost of the book completely.
Canadian locations include: Calgary, Edmonton, Vancouver, Winnipeg, Halifax, Toronto (GTA), Hamilton, Ottawa, Montreal, Saskatchewan, Vancouver Island, and Okanagan Valley. If you're thinking of heading south for vacation you might also be interested in the Hawaii, Orlando, Las Vegas or Orange County books.
2013 Entertainment Book coupons are valid through November 2013. You now also have the option of downloading the free Entertainment Book Companion App to view your 2013 book on your smartphone, see Entertainment.com for details.