Applebees
Applebees Restaurants: Buy a $50 Gift Card, Get a $10 Bonus Card Free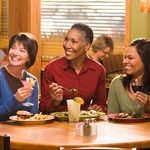 This deal has expired!
Get more Applebees for your money with this limited-time offer: when you purchase a $50 gift card for Applebees restaurants in Canada, you'll get an additional $10 Bonus Card for free.
You will have until June 24 to purchase your qualifying $50 gift cards from participating Applebees Canada restaurants, and your free $10 Bonus Card can be redeemed between May 14-July 8, 2012.
For more information, and/or to purchase your gift cards, visit an Applebees location near you.