A & W
$1.50 Mama Burger at A&W For a Limited Time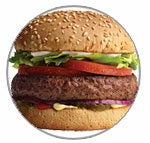 This deal has expired!
We spotted this great deal in the RFD forums and then confirmed it on the A&W Canada Facebook page. For a limited time only, A&W is offering Mama Burgers for $1.50. That's a modest drop from the regular price which ranges between $2 and $2.50, depending on location.
As you might guess, the A&W Mama Burger is larger than the Baby Burger or Teen Burger (but smaller than the Papa Burger!) and comes with one beef patty, an onion slice, Teen sauce, ketchup, mustard and pickles on a sesame seed bun.