Coleman 20 Watt 12 Volt Solar Battery Charger - $64.99 (50% Off)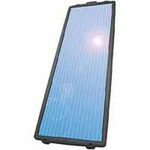 This deal has expired!
Ideal solution for charging 12 volt batteries for your cars, RVs, tractors, ATVs, electric fences, deer feeders, boats, and more. Plugs into 12V DC plug or directly to the battery with included battery clamps. Amorphous solar panel is weatherproof and operates in all daylight conditions, even on cloud days. Lightweight design is completely portable. Built-in blocking diode prevents reverse discharge in battery. To be used in tandem with a charge controller to prevent the 12 Volt battery from overcharging (not included). Can be used with SKUs 011-2008 & 011-1891. Maximum power output: 20 Watts and 1.34 Amps under ideal conditions. Includes alligator battery clamps, 12V DC plug, pre-cut holes on solar panel, mounting screws, 11.5 ft. of wire attached to panel, and quick connect technology.