Black's Supersize Your Prints: Free Upgrade to 5x7 or 6x8 Prints Until August 18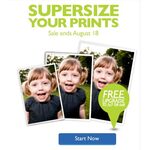 This deal has expired!
We've got another photo printing special to pass your way this one courtesy of Black's. Until August 18, you can supersize your prints to 5x7 or 6x8 sizes absolutely free which isn't too bad as you'll be saving around $0.10 to $0.20 per print. Though the pricing on the standard 4x6 prints remains unchanged, this would be a good time to pick up some larger sized images at a discounted price.
The deal is live now but expires on August 18. If you're interested, you'll want to get your order in soon to avoid any extra wait times caused by the influx of orders at your nearest Black's.