Walmart.ca Now Carries Diapers/Wipes: Pampers Econo Size $36.97 w/Free Shipping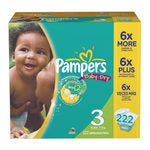 This deal has expired!
Walmart.ca has started carrying diapers and wipes -- and right now, they're offering free shipping on them, too! The prices are excellent, although right now, only a small percentage of their total in-store diaper selection is available online. Keep in mind that the number of diapers per pack varies according to the diaper size. Here's a quick look at some of the best buys:
With free shipping, this seems like a particularly good option for urban parents who may currently be lugging home big boxes of diapers on the subway or streetcar!