Toys R Us
Toys R Us Canada: Imaginarium Train Tables and Dollhouse are $50 off + Free Shipping & More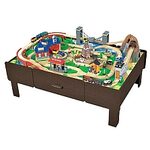 This deal has expired!
If you've had your eye on one of the Toys R Us Imaginarium classic train tables or Deluxe Dollhouse but could quite justify spending the money on it, you might want to consider it now! They're regularly priced at $199.99, but you can get them now for $149.97 each -- and shipping is free! The train table comes in espresso or classic finish and includes over 100 track pieces and trains plus a roundhouse, turntable, mountain tunnel, bridge, airport tunnel and lots of sounds and lights. The dollhouse comes with ten rooms and 31 pieces of furniture and accommodates dolls up to 12 inches tall.
Toys R Us is also featuring the Smart Trike 3-in-1 Tricycles for only $129.97. They're regularly priced at $149.99. The Smart Trike 3-in-1 Tricycle's discounted price is valid until June 28 only and while quantities last.