Toronto Zoo
Toronto Zoo: $10 off one Kids Admission w/Proof of Purchase of PC Zookies Cookies/Crackers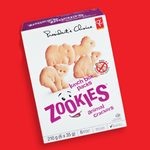 This deal has expired!
The Toronto Zoo is running a promotion in conjunction with President's Choice -- and PC line of animal-shaped snacks. When you purchase any regular-size PC Zookies, PC Crunchy Clubs, PC Little Penguins Snacks, PC Little Penguins Cookies or PC Little Penguin Bites at Real Canadian Superstore, you'll get $10 off a child's admission to the Toronto Zoo. You just have bring the portion of the box showing the barcode to the Zoo with you.
This offer runs through September 3, 2012. There's a limit of one discounted admission per family. Regular admission for a child ages 4-12 is $15, so this is deal is a nice money-saver. Kids three and under are always free.