New Bright 1:10 R/C Scorpion Pro Racer - $89.99 ($30.00 off)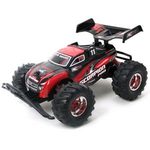 This deal has expired!
Get dirty, get messy and drive off-road extreme-style on a miniature scale with the New Bright R/C 1:10 Scorpion Pro racer. Splash and race through the dirt and mud puddles with its powerful forward and reverse drive plus left-to-right steering capabilities. Get the boost of speed you need with its fast acceleration technology and digital proportional speed. Master the rocky terrain with its independent suspension plus enjoy the benefits of its PC ultra-light body. The Scorpion Pro runs on a 12.8V battery pack (included) and will leave you feeling entertained time and time again.