Crayola
Free Printable Colouring Pages & Activities from Crayola.com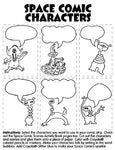 This deal has expired!
If you want to avoid all those cries of "Moooo-
om
, I'm booo-
oored
"
you'll want to bookmark this great site from Crayola
! It has a whole slew of activities for kids, including:
Although the site is from Crayola -- which is a company in the business of selling crayons -- we thought that the advertising was kept to a minimum and the activities were pretty fun. Your kid can definitely kill an hour or more exploring -- which just might save your sanity!