Walmart
Walmart Weekly Flyer Round Up: Kitchen Aid Classic Stand Mixer $197, 3.5L Deep Fryer $43 and More!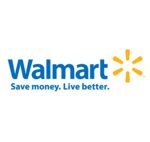 This deal has expired!
If you're hosting Thanksgiving dinner this weekend and don't know quite where to start, Walmart has you covered with a few good deals to help you out. We've skimmed the weekly flyer and pointed out some more notable deals below, but you can always check the full flyer and more deals here.
Parsons Chair - $39
Kitchen Aid Classic Stand Mixer - $197
Libbey 12-Piece Sociable Wine Glass Set - $9.97
18" Oval Roaster with Dome Lid - $9.97
3.5L Deep Fryer - $42.98
Libbey 20-Piece Camden Tumbler Set - $9.97
Sunbeam 12-Cup Coffee Maker - $19
T-Fal 5-Quart Jumbo Cooker with Lid or Giant Frypan - $24.86
Pyrex Pie Dish or 2-Pack Measuring Cups - $4.97
The deals are live now and flyer prices are in effect until October 11.