Walmart
Walmart: 20-cu. ft. Cargo Box is $98, Raleigh Tora Bikes are $199, $5 Character T-Shirts & More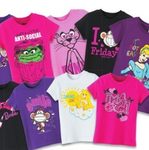 This deal has expired!
The latest Walmart flyer has arrived with some good deals on camping gear, patio furniture, back-to-school items and more. You can view the full flyer here, highlights include:
Deluxe Folding Armchair w/carry bag - 2 for $18 or $9.97 each
7" Portable DVD Player - $48, was $54
SeaHawk2 2-Person Inflatable Boat Set - $39, was $49.97
Coleman 4-in-1 Airbed w/pump - $39.87, was $54.96
Providence 4-Piece Outdoor Chat Set - $294 clearance price
Raleigh Tora 24" or 26" Bikes - $199 clearance price
Kids' Character T-Shirts - $5 (includes SpongeBob Squarepants, CareBears, Transformers, Disney Princesses and more)
Leaner Mirror, full-length Espresso finish - $78, was $99.96
PlayStation 3 320GB Move Hardware Bundle - $299, was $349
20-cu ft Cargo Box w/U-bolt mounting hardware - $98, was $197
Flyer prices are valid July 20-26, unless otherwise noted. The above prices were quoted from the Ontario Walmart flyer, and all items may not be available in other parts of the country. To view your local Walmart flyer, go here.