Staples
Staples Big Chair Event: Save up to 50% on Select Brands (Staples, Serta, Office Star)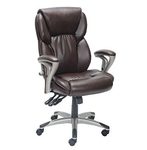 This deal has expired!
Office chairs aren't the most affordable pieces of equipment so it's always nice to upgrade when they're on sale. If your current chair isn't quite as comfortable as it once was, Staples is giving you a good incentive to replace it during their Big Chair Event where you can save up to 50% on select models. Flyer selection was decent but we're sure there will be more models in-store to choose from. Here's a look at a few available online:
For more details, or other Staples deals, you can check out the full flyer here. There are more models on sale too and we'd recommend going to the store and checking them out in person as it'll be hard to judge which are comfortable and which aren't.
Flyer prices are in effect until November 13.