Solutions Boxing Week Blowout Sale - Save on Closet Organizers, Holiday Storage & More (ON)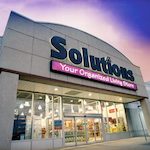 This deal has expired!
Get organized in the new year with a little help from Solutions Your Organized Living Store. Their Boxing Week Blowout Sale features deals on items like these:
Up to 50% Off Trolley Cases - $149.99 for 3-pc set, was $329.97
Up to 40% Off Holiday Storgge
50% Off Stainless Steel Garbage Container - $99.99, was $199.99
Sensor Soap Pump - $19.99, was $49.99
Up to 30% Off Closet Organizers
Sale starts December 26, to find your Ontario Solutions location, visit their website.