SaveOnEnergy.ca
SaveOnEnergy.ca: Downloadable Coupons for Environmentally Friendly Products (Ontario)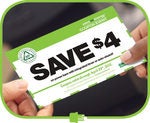 This deal has expired!
Ontario residents, save money and energy with these downloadable coupons for environmentally friendly products for your home. Here's a look at some of the savings available:
Select coupons expire on October 28, while others will be valid through December, 2012. For more information, and to view a list of participating retailers where you can redeem your coupons, visit SaveOnEnergy.ca.