Royal Canadian Mint
Royal Canadian Mint: Limited Edition Lucky Loonie 5-Pack for $5 + Free Shipping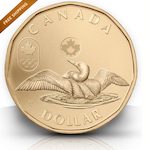 This deal has expired!
Most of us remember the famous Lucky Loonie embedded at centre ice that propelled Canada's hockey teams to gold in the 2002 Olympic games. To commemorate the 2012 Olympic games, the Royal Canadian Mint is issuing a newly updated Lucky Loonie featuring the Olympic rings, the Canadian Olympic Team logo and a majestic loon on the water. You can get a set of 5 one-dollar coins for $5.
Since this offer comes with free shipping (and no tax!) you are essentially paying $5for $5 worth of coins, but by purchasing them directly from the Mint you're getting new coins that haven't been circulated. There's a limit of three sets of coins per customer. At checkout, be sure to check the "lettermail" option to ensure you're getting free shipping.