Purina
Purina: Register for MyPuppy Program & Get Free Kit including ID Tag, Food Coupons & More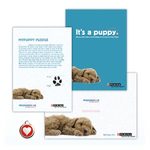 This deal has expired!
Are you the happy owner of a new puppy? If your answer is yes, you can register for
Purina's MyPuppy newsletter
and receive some useful freebies. You'll receive a MyPuppy Kit custom folder with the following:
care guide
ID tag
Purina pet food coupon
Pet Advisor contact info
health chart
You will also receive e-mails tailored to the key stages of your puppy's first year to help track their development. Thanks to dealiah for sharing this freebie with us!