Leons
Leon's: Save Big on Furniture, Appliances & More + Don't Pay for 18 Months through June 24 (Online & In-Store)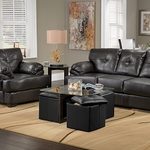 This deal has expired!
Shopping for furniture and looking for a deal? For a limited time only, you can save big at Leon's during their Honey! They Shrunk the Prices event, featuring online and in-store discounts on selected furniture, mattresses, energy-saving appliances, electronics and much more! On top of that, you don't pay for 18 months with 0% interest when you purchase before June 24! To take advantage online of no monthly payments for 18 months, you are required to give a 15% deposit of total sale and need to enter promo code D18 at checkout. If you buy in stores, no deposit is required and it applies to everything in their showroom!
Leon's is also offering free local delivery on most of their discounted products. These two promotions are ending June 24. You can view their in-store featured deals here.