IKEA
IKEA Summer Sale - Save Up to 50%, Starts With Midnight Madness on June 22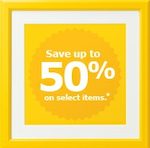 This deal has expired!
It's that time of year again -- not just summer, but Summer Sale time at IKEA! The IKEA Summer Sale launches on Friday, June 22 with a special Midnight Madness sale from 6PM-Midnight.
Expect to see savings of up to 50% on select items during this event, while supplies last. Pricing is not valid on previous purchases and products may vary by store. Unfortunately the Midnight Madness sale will not be available in the province of Quebec.
For more information, visit your local IKEA starting June 22.