Home Depot
Home Depot: Weber Genesis E-320 Propane Gas Grill $749, Natural Gas $799 + Free Shipping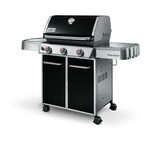 This deal has expired!
Patio and barbecue weather isn't too far off now, so the hunt is on for BBQ deals! Over at Home Depot, there's a decent offering right now if you're interested in a mid-range Weber grill. The Weber Genesis E-320 Propane Gas Grill is available for $749.00 with free shipping. The regular price for this grill is closer to $900.
The natural gas version of the Gensis EP-320 is priced also discounted to $799 at the moment.
Free shipping certainly makes this deal more attractive. It's convenient not to have to drive a big BBQ home, and you'll probably end up saving some moderate shipping costs at the very least!