Home Depot Two Week Appliance Sale: Save up to 27% on Select LG, GE and Maytag Appliances (Ends 2/6)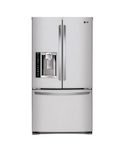 This deal has expired!
Home improvement upgrades and renovations can get quite expensive, especially for new home owners, but Home Depot is here with a limited time two week sale to help you out if you're in need of appliances. Until February 6, you can take up to 27% off select appliances which means you can take the savings and put it towards other essential upgrades which helps you stretch your money a little further. There's a decent selection on sale and some of the items available include:
There's just over 50 products to check out but quantities are limited online and in-store. If you want to avoid missing out, you'll want to head over to your nearest Home Depot for some tips and advice on what might suit you best.
The sale lasts until February 6.