Future Shop
FutureShop.ca: Up to 50% Off KitchenAid Mixer Attachments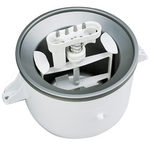 This deal has expired!
Get more out of your KitchenAid stand mixer with a new attachment, and save up to 50% at FutureShop.ca!
RedFlagDeals.com forum poster freeatom has spotted some big savings on select KitchenAid stand mixer attachments from Future Shop, and suggests a way to save even more by price matching at a Home Outfitters store for an additional 20% off when you pay with your HBC credit card/MasterCard. Plus, KitchenAid are currently offering mail-in manufacturer's rebates on select attachments (these rebates are not available on items purchased from Future Shop, but can be used on items purchased from Home Outfitters).
Here's a look at some of the discounts Future Shop are offering:
Orders of $20+ ship for free from FutureShop.ca. Pricing is valid until May 10, 2012 (the 20% HBC discount at Home Outfitters is only valid until May 7 for those who wish to price match and take advantage of those additional savings).
Note: With such substantial discounts, many of these attachments are selling out quickly online, but may still be available in store at a Future Shop near you.