Coffeefair.com
Free 53 Page Coffee Recipe eBook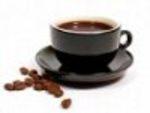 This deal has expired!
Attention coffee lovers, you can now make coffee an even bigger part of your life with a
free coffee recipe book from CoffeeFair.com
. It's a 53 page collection of coffee recipes, with tons and tons of different beverage recipes as well as some fine coffee accompaniments like biscotti. How does a Caramel Macchiato sound? Or a Loco Cocoa Mocha? The ebook is zipped up and in a PDF format.
Thanks to 3weddings for pointing this freebie out!