Dyson
DysonCanada.ca Refurbished Vacuums: DC33 Multi Floor - $269.99, DC25 Ball - $299.99 & More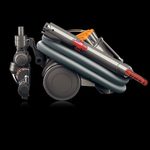 This deal has expired!
Considering a Dyson vacuum cleaner? Check out the current refurbished selection at DysonCanada.ca to save yourself some money!
There are four different refurbished models available right now, including the DC25 Multi Floor Ball vacuum at $299.99 ($60 less than we've previously seen it when refurb units have been available). Here's the full selection:
DysonCanada.ca refurbished vacuums come with free shipping and a 2-year warranty (versus a 5-year warranty on new, full-priced models). Refurbished units have minimal prior use and are final sale. For more information visit DysonCanada.ca.