Canadian Tire
Canadian Tire: Lagostina 11-Piece Padova Cookware Set $199.99 (Reg. $599.99) and More!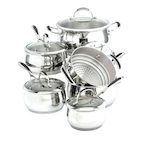 This deal has expired!
Cooking is serious business and if you're as passionate about it as we are, you'll want to head on over to Canadian Tire where they've put some Lagostina cookware on sale for a limited time. Right now, you can save up to 70% on the following:
Although the selection isn't too large, it's all about quality over quantity in this case. Lagostina is a well known and popular brand and getting a ten or eleven piece set for under $200 is a very good deal. Obviously, it all depends on what you need but, if you're interested, you'll want to get to a Canadian Tire soon as stock will surely move quickly.